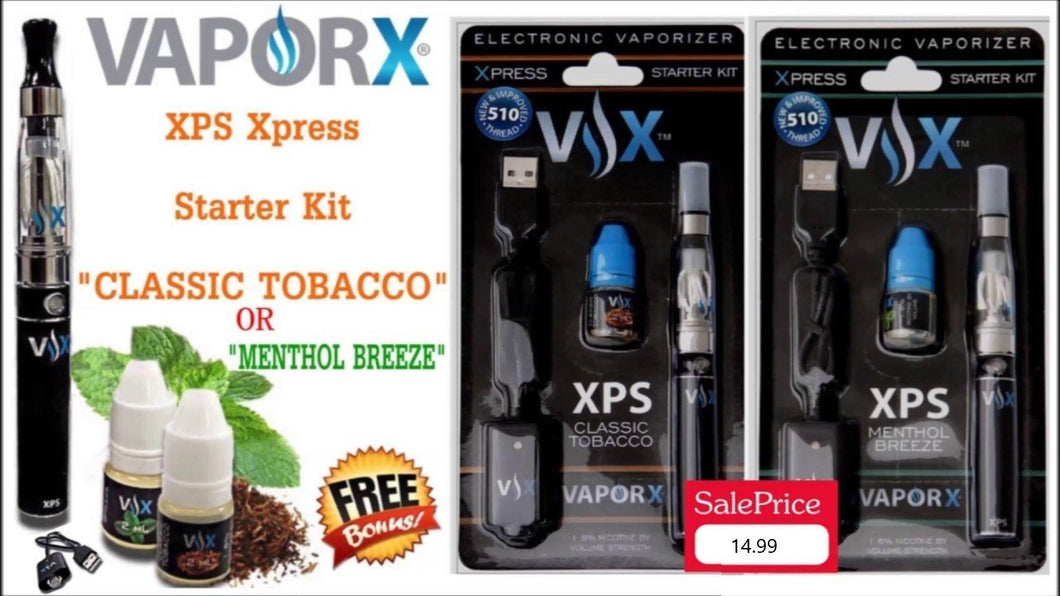 VaporX XPS Xpress Starter Kit *SUPER SALE*
Vapekitdeals
Regular price $28.99 $14.99 Sale
                                 

*

MEGA SALE*
You will receive (1) Starter Kits for $14.99
The VaporX® XPS Starter Kit's quad top wick tank has a 1.6ml capacity for your all-day Vaping. Everything you need is included in this Kit.
Plus a 2ML Bonus Bottle of 1.8 Strength e juice is included in this kit.
Warranty:  We back our product with a 7 day money back guarantee! Just send the complete kit back and we will issue you a full refund. 
Designed for those looking for a cost-effective way to enter into the world of vaping, the VaporX® XPS

XPS STARTER KIT CONTAINS:
1 x Rechargeable Vaporizer Battery with Locking Feature
1 x 1.6ml Refillable Quad Top Wick E-Liquid Tank
1 x USB Charger with Cable

 BONUS: 2ml E-Liquid * 1.8% Nicotine by Volume